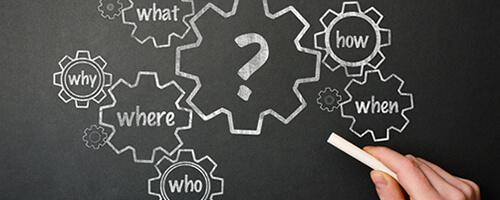 Barcode 101
---
What types of barcodes are there?
There are different types of barcodes known as barcode symbologies. Different symbologies are used by different vertical markets. An example is the UPC (Universal Product Code) barcode scanned at the cash register. Some symbologies are fixed length, others variable length; some are numeric-only and others are alphanumeric (letters and numbers).
What are the benefits of using barcodes?
Barcodes enable automated work processes without human intervention. Auto ID technology like barcodes is often called keyless data entry. Barcodes are fast and accurate, never dyslexic. The use of barcodes eliminates many errors and often saves time and money.
A barcode essentially is a way to encode information in a visual pattern that a machine can read. The combination of black and white bars (elements) represents different text characters which follows a set algorithm for that barcode type. If you change the sequence of elements you get different text. A barcode scanner reads this pattern of black and white that is then turned into a line of text your computer can understand.
Is the price of my item in the barcode?
A barcode can hold any type of text information you encode, but with product labels the price in not usually encoded. The barcode will denote what product it is and your POS software or database will have pricing information associated to this.
What is a 1D (linear) barcode? What is a 2D barcode?
A 1D (linear) code is the typical "picket fence" style barcode that people are most familiar with. There are several versions of 1D codes and some encode only numbers while others can encode any keyboard character. All the information in the code is organized horizontally from left to right. These types of codes can be read by any type of barcode scanner. 2D barcodes are a bit more complex as they organize information vertically and horizontally. This allows 2D codes to hold much more information and take up less space than a 1D code. 2D codes require an imager scanner to be read properly.
How many characters can fit into a barcode?
Depending on the specific barcode type, 1D barcodes can have from 20-25 characters while 2D codes go up to 2,000 characters. The main practical concern is that as you increase the amount of information in the barcode the bigger it will become. This is especially the case with 1D barcodes. Normally, people encode just 8-15 characters with 1D.
What is the barcode on a driver's license?
In the United States, driver's licenses use a PDF417 stacked 2D code.
How small can I make a barcode?
Barcodes can come in a wide range of sizes and can get down to a 1/8th inch square when using a 2D code. However, there is a trade off since making such a small code will limit the amount of characters you use and will require a high resolution label printer to ensure the quality of the print is still readable by a scanner. The smaller a code becomes the more difficult it is to read.
If you sell products to a distributor or a retailer, you will typically need a UPC barcode. If you are not sure, it is best to contact the company selling your product to find out their policy on UPC barcodes. When you obtain your UPC number, you will also get a certificate authenticating your number. Most retailers require proof of the certificate to verify that your number is unique and authorized.
How do I get a UPC number?
Only GS1 US can issue you a globally unique "GS1 Company Prefix" that is used to create UPC numbers.
Follow this link for all the information you need to start this process: https://www.gs1.org/barcodes
How much does a UPC number cost?
The fee is determined by the number of unique products you need to identify and as well as gross sales revenue. Because the prices vary so greatly, only GS1 can give you an accurate cost for this.
How can I read the dust-proof and waterproof specifications?
The IP code (International Protection Code) for the waterproof and dust-proof construction of electronic equipment is decided by the international organization, EIEMA. The standard EN60529 specifies the unified global requirements for the waterproof and dust-proof function of products.
Due to the different design targets and application environments, there are different protection classes, for example: In "IP54", the first number defines the dust-proof level (0-8); level 5 in this example. The second number defines the waterproof level (0-6); level 4 in this example.
The first code represents the dust-proof level
0: No protection

1: Excludes objects larger than 50mm

2: Excludes objects larger than 12.5mm

3: Excludes objects larger than 2.5mm

4: Excludes objects larger than 1mm

5: Dust cannot enter

6: Completely sealed
The second code represents the waterproof level
0: No protection

1: Water drops from the front are tolerated

2: Water drops within ±15 degrees from the front are tolerated

3: Water drops within ±60 degrees from the front are tolerated

4: Water splashes from each side are tolerated

5: Low-pressure water splashes from each side are tolerable

6: High-pressure water splashes from each side are tolerated

7: Immersion 15cm-1m under water is tolerated

8: Immersion in pressurized water is tolerated
What is "compliance labeling"?
Many companies will ask their suppliers and other partners to add barcodes or RFID labels so as to categorize the received materials and manage stock to facilitate the operation of automatic systems. The labeling that complies with these requirements is called "compliance labeling", because the transportation company needs it to comply with the regulations or meet the requirements. The design, contents, barcode system, printing quality of the compliance labeling should follow a strict format.
How can I connect a barcode printer to a PC?
The barcode printer is equipped with many user interfaces for quick integration with the various host computer systems. Ethernet, USB, parallel and serial interfaces are all supported. As a general rule, thermal barcode printers can provide 802.11b and Bluetooth wireless connection capability. There are management tools that allow the user to perform operations such as remote control, configuration setting, and also to troubleshoot the connected printer.
How many data items can a barcode contain?
Although the 2-D code can be used to encode many characters, if necessary, the length can be changed to encode fewer characters. The amount of data in a variable-length barcode is limited by the number of symbols. The number of these depends on the capability of the barcode reader.
Which type of barcode should I use?
The wide variety of barcodes allows you to find a suitable system to meet your requirements. If you want to make sure which barcode type is the most suitable for you, the key criteria is the amount of data to be encoded, the space available to print the barcodes and the data type to be encoded.
How many barcode types are available now?
Nowadays, there are hundreds of available barcode symbol systems. However, only a few are widely used. Each of these 'symbologies' has unique barcode patterns, spacing modes, and data encoding rules. There are two basic types of barcodes: 1-D and 2-D barcodes. The D stands for dimensional.
Learn @ Idezi
---
Idezi offers many products that all fit into identification, thus the tag line, "ID made easy". So, while we have a single-minded focus in this field, it encompasses many different products. We have designed this FAQ section to provide you easy access to many industry questions and answers.
Please look over and see if we have answered your questions. If not, please call us at 615-377-8849, so we can add to the list.