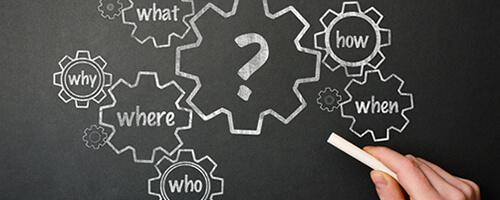 Printing
---
A cutting die is similar to a cookie-cutter. It cuts the shape of the label out of the material. The ink, UV coating or laminate is printed to the label material before it is die-cut. Idezi works directly with manufacturers who specialize in custom labels, stock labels and unique designs. We will most likely have the die shape you are looking for, however, we can create a custom die for your label application.
What if the shape/size of my label is unique?
We have the ability to produce custom printed labels in nearly any shape or size you need – even custom shapes. If we don't have an existing cutting tool that matches your requirements, we can purchase a custom cutting tool on your behalf. Custom cutting tools typically range from $150 up to $2000. The tooling charge is typically a one-time cost and doesn't apply to reorders. Please contact our customer service team at 615-377-8849 for more information about our existing tooling inventory or to get pricing on a custom cutting tool.
Can you print the back of my label?
Yes, we can print on the adhesive or liner side of the label. Please contact our customer service team at 615-377-8849 to get specific pricing on the costs associated with this printing process.
What are color separations?
Label artwork with "color separations" means that each color within the artwork has been broken down into a certain mixture of the four basic ink colors (cyan, magenta, yellow and black – CMYK) to create that color. Each color layer of your label is printed separately, one on top of the other, creating a full-color label.
What type of lamination is best for my label?
Lamination on your labels will provide protection against abrasion, chemicals & solvents, weather, power washing, fade and UV degradation. We offer a wide variety of laminate types, however, polyester laminate is best for outdoor label applications. Please contact our customer service team at 615-377-8849 and we'll be happy to assist you in choosing the right laminate for your labels.
We use a special color. Can you match my labels?
Yes, we are able to match custom colors. Please make sure to provide our customer service team with a Pantone number or a sample of the color that you require.
What's the difference between 4 color process (CMYK)" and "spot" color printing?
4 color process printing is used in printing labels with photographic images. The four colors are combined to recreate color. Spot color printing is generally used for text and specific company logo colors i.e. Coca-Cola Red. The four color process can't quite get the specific red that Coke requires. Pantone colors are frequently used for spot colors.
What are pressure sensitive labels?
A pressure sensitive label has a sticky adhesive glue on the label's backside. When pressure is applied to the label, it will adhere to most surfaces.
What is flexographic label printing?
Flexographic label printing is a high resolution printing technique that uses polymer plates to print the image of your label artwork directly onto the substrate (label material). Flexographic label printing is fast, economical and widely used in the label industry. The majority of the custom process work we provide are run on flexographic presses.
Can Idezi offer laser sheeted labels?
Yes, we offer laser or inkjet 8.5 x 11 sheeted labels and carry many different configurations. If you are looking for blank laser or inkjet label sheets, we recommend that you call our office at 615-377-8849 to discuss more.
What is the maximum amount of colors that can be printed on a label?
Idezi can print up to 22 colors, or 21 colors plus a UV coating and on multiple sides, with flexographic printing. Digital printing can print an unlimited number of colors plus a UV coating.
What are the parts of a label?
Labels are generally made from 4-5 components:
Release Liner: The label is attached to a release liner that is generally made from either silicone coated paper or clear polyester for easy label release during application.

Adhesive: There are a variety of label adhesives available – permanent, temporary, removable and repositionable are a few. Label environment, application & service temperature extremes and the type of surface the label is applied to are important considerations when choosing an adhesive.

Label Material/Substrate: The substrate is the material that gets directly printed on. Choose your label material based on application and environmental conditions your label will be exposed to.

Inks/Artwork: Inks are considered a layer that comprises a label

Finish: There are several types of varnishes and laminates available with various finishes – High Gloss, Semi-gloss, matte, and soft touch. The label's application and environment are factors in choosing which finish is right for your custom labels.
"Corner radius" is the measurement of the curve that the label's corners shows, expressed in decimal form. A normal radius is 0.125 – the higher the corner radius, the more curve each corner has.
How do I get a barcode if I need barcode labels printed?
To get a unique barcode retail number (UPC, EAN, etc.), please contact GS1 to obtain an official UPC code. GS1 is an international non-profit organization tasked with influencing and maintaining efficiency standards to meet global supply and demand. For a fee, you will be issued a set of numbers which can be used for your product's retail barcode labels.
Once you have the number, you can call Idezi and with your UPC number can create the barcode labels you need. If you require instant or "on demand" labels, customers have another option. They can purchase the equipment, software and raw material (blank labels and ribbon) to create the label stock on demand or as needed. With this system, the customer can produce as little as 1 label or as many as needed. To learn more, call Idezi at 615-377-8849.
Learn @ Idezi
---
Idezi offers many products that all fit into identification, thus the tag line, "ID made easy". So, while we have a single-minded focus in this field, it encompasses many different products. We have designed this FAQ section to provide you easy access to many industry questions and answers.
Please look over and see if we have answered your questions. If not, please call us at 615-377-8849, so we can add to the list.