Honeywell
MX9CS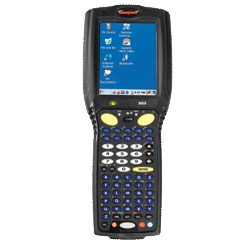 The MX9 Cold Storage mobile computer is perfect for use in all cold environments including refrigerated warehouses, cold climate ports and other outdoor logistics or cold storage operations where data collection is needed. Don't let its rugged exterior fool you - the MX9CS is intelligent, flexible and dependable.
Features
---
Designed for Cold Storage: Operates to -22°F (-30°C)without fog, frost, or condensation with low-temperature batteries and specialized thermostatic control heaters

Ultra-Rugged: Lowers total cost of ownership and reduces downtime with an IP67-rated design that has the ability to withstand multiple 6' drops to concrete and 2,000 1m tumbles

Anywhere Wireless Connectivity: Supports real-time connectivity to critical information with 2G WWAN radio, GPS, and WLAN

Customizable Keyboard: Increases worker productivity and ease of use with a fully mappable keyboard with 10 one-touch function keys. Also available is a 62-key alpha-numeric or a 38-key numeric-alpha keyboard

Brilliant Display: The brilliant outdoor display offers crystal clear viewing in full-sun and dimly-lit environments
---
Benefits
---
When you need an ultra-rugged handheld that withstands temperatures down to -30°C, the MX9CS is it. With an IP67 rating this ultra-rugged handheld from LXE is ready for the most extreme environments imaginable. From built-in heaters to lowtemp batteries, the MX9CS easily adapts from normal temperature ranges to cold conditions.
Not the one you want?
---
Idezi offers a complete line of products in the barcode industry. However, we decided to limit our products page to a number of popular products. We have learned that clients can be overwhelmed by the various options available. So, if you are looking for a particular item and don't see it on our page, please call 615-377-8849 or email us . We most likely offer it.