Honeywell
Thor VM3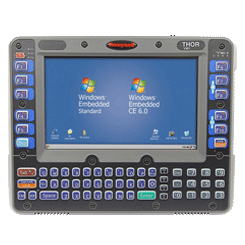 Designed for use in the toughest distribution center environments, manufacturing facilities and freight operations, the Thor™ VM3 is the industry's most capable full-size vehicle-mounted mobile computer, delivering unmatched operational efficiencies.
Features
---
Operating System: Another key feature of the Thor VM3 is that it enables you to upgrade from Microsoft Windows XP-based vehicle mount computers to a Windows 7 or Windows 8 based system. You can choose between WEC 7 (Windows Embedded Compact 7), WES 7 (Windows Embedded Standard), Windows 7 or Windows Embedded 8.1 Industry Pro

Powerful, Versatile Platform: The Intel® x86 architecture and Dual Core 1.5GHz processor enable superior performance of data-intensive applications. Plus, the Thor VM3 is Microsoft® Windows®-based, so integration and application development are simple

Smart Dock: Enables mounting and removal in seconds, saving on support and maintenance costs while maximizing efficiency by allowing dynamic shifting of computers as workload changes

User Field Replaceable Front Panel: Reduces maintenance cost by allowing users to service the most wear and abuse prone components themselves rather than returning them to the depot

Versatile: Can be deployed in multiple application environments - from dry goods to cold storage, indoor or outdoor, in-premise or in intermodal facilities, in any IT environment
---
Benefits
---
The Honeywell Thor VM3 is a full-sized vehicle mount computer designed for use in distribution centers and manufacturing environments. The VM3 has a 12.1? screen and comes standard with a resistive touchscreen (for use with finger or stylus) although an optional projective capacitance touchscreen is available. An optional screen defroster allows this computer to be used in cold storage and freezer environments while a bright outdoor display makes it suitable for outdoor environments (the cold storage touchscreen is resistive only since workers in these environments typically wear gloves.
Not the one you want?
---
Idezi offers a complete line of products in the barcode industry. However, we decided to limit our products page to a number of popular products. We have learned that clients can be overwhelmed by the various options available. So, if you are looking for a particular item and don't see it on our page, please call 615-377-8849 or email us . We most likely offer it.