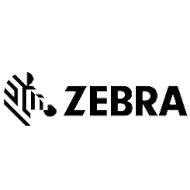 Zebra
MC55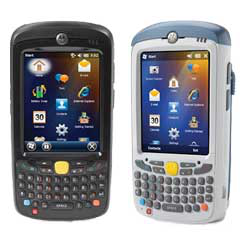 The Zebra MC55 mobile computer brings a new level of flexibility, functionality and rugged design to size-optimized mobile devices, providing mobile workers with the power to streamline business processes, increase productivity and improve customer service.
Features
---
Operating System: Microsoft's Windows Mobile 6.5

Advanced Connectivity: Works on virtually any wireless LAN. The 802.11a/b/g tri-mode radio connects to both 2.4GHz and 5GHz WLANs for cost-effective voice and data connectivity in the office and hot spots; 802.11a (5GHz band) support enables segmentation of voice traffic to ensure voice quality

Advanced Bluetooth: Bluetooth® v2.1 with EDR provides a wireless connection to more device types, including modems, printers, headsets; simplifies pairing; improves security; reduces power consumption; supports either Microsoft or Stonestreet stacks

Multi-mode Data Capture: 1D/2D bar code scanning plus optional color camera with decode capability

Withstands Drops: Ruggedized with 1.2 m / 4 foot drop to concrete resistance bringing durability and lasting value

Environmentally Sealed: Environmentally sealed against moisture and dust with an IP54 rating

High Definition Display: The Zebra MC55 mobile computer features a highly visible High definition QVGA display 3.5-inch display (320x240)

High Resolution Camera: If you need to capture photos, videos, or documents in addition to bar codes, no problem — just add our high-resolution 3.2 MP autofocus color camera
---
Benefits
---
Designed to meet mobile worker, business application and IT requirements, this easy-to-use and easy-to-carry business-class device offers true consumer styling as well as enterprise manageability, security and scalability.
Not the one you want?
---
Idezi offers a complete line of products in the barcode industry. However, we decided to limit our products page to a number of popular products. We have learned that clients can be overwhelmed by the various options available. So, if you are looking for a particular item and don't see it on our page, please call 615-377-8849 or email us . We most likely offer it.