Seuic
AutoID9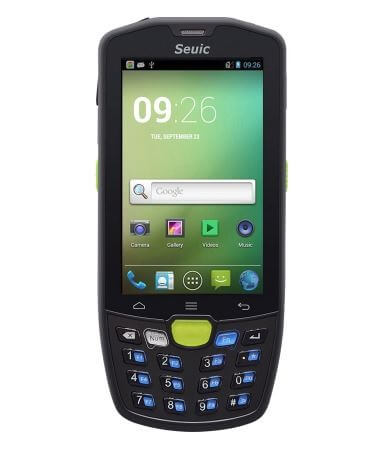 AUTOID9 is a high performance new generation Android device for various applications. It is specifically all-in-one device designed for Android applications with comfortable, easy and powerful operating characteristics. The rugged device with high sealing rate (IP67) totally meet requirement of tough industrial environment with high stability and wearable to use.
Features
---
When handheld terminals to be used you might meet these problems: can't be operated with glove or in the dusty or rainy environment, no shortcut key to help……We thought that the handheld device with physical keys would fit better for industrial applications! AUTOID9 is concerned of user operating experience, adopts keyboard virtual keys+ physical keys to solve the above mentioned problems without any compromise of portability.
---
Benefits
---
Advanced capacitive touch and visible display: 4 inch size Corning Gorier capacity touchable WVGA display, support low temperature IPS 178 degree full view display, meet requirement of clear visible usage of indoor and outdoor, support touchable operation with glove, wet/dry hand with physical keys, high performance for various tough industrial environments.

Lightweight, exquisite and portability design: all functions in one device with industrial protection level, only 270g, 22mm thickness of great portability.
Practical and rapid physical key matches: two keyboard options for end user choose.
Total security design: AUTOID9 in-build of unified software platform, end user could control application installation, authorization and remote virus killing, software upgrading, thus to ensure OS and data security.
Perfect barcode scanning solutions: options of 1D barcode laser engines of SE955, UE966, Honeywell4313 and 2D imager of SE4500-SR, Symbol 4750-SR, Motorola SDC soft scan technology supported to analyze barcode via Camera.
Stable Android 4.3 quad core CPU: professional system optimized design, 0 memory taking rate for unrelated program, stable and effectively solve Android OS too high memory comsuption; adopt latest quad core 1.2G high speed processor to process various tasks without any speed compromise for best security of mobile data processing.
2.4G/5G dual frequency high speed Wi-Fi: AUTOID9 support dual frequency WLAN up to 200Mbps and seamless roaming.
Global 3G tri-mode: AUTOID9 support WCDMA/WCDMA+EVDO+TD-SCDMA, Stable industrial protection design: in built aluminum alloy holder to secure device ruggedness, double level wall structure meet IP67 sealing level, times of 1.5m dropping anti-shock, 1000 times 0.5m rolling.
12 hours working time: 4000mAh Li-on battery, back up battery would prevent data lose for main battery changing.
Not the one you want?
---
Idezi offers a complete line of products in the barcode industry. However, we decided to limit our products page to a number of popular products. We have learned that clients can be overwhelmed by the various options available. So, if you are looking for a particular item and don't see it on our page, please call 615-377-8849 or email us . We most likely offer it.