Sato
CLNX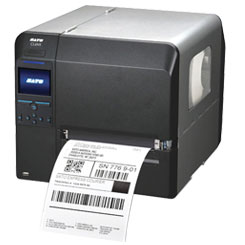 With the new CLNX Series label printer your problems are solved! Only the CLNX will address the typical thermal printer issues you experience today by its many user friendly features and rugged design. Built with integrity, designed with the operator in mind, the CLNX surpasses the standard of today's printing technology.
Features
---
Solid Construction: The CLNX is built tough using a full cast aluminum frame providing better durability vs. bent frame and spot welded construction as seen on other leading competitive models

10-Inch OD and 600 Meter Ribbon

Universal Connectivity: More standard connectivity options create easier integration into existing and expanding application environments

Easy Media Access: Wide accessibility (60°) to media path allows for quick, effortless loading of media, print head and platen roller maintenance

Label Dampener: LTDS controls the back-feed; wound in/wound out features, making most media CLNX adaptable

On-board Help Videos: The CLNX help videos are conveniently resident on the printer for viewing vs. scannable QR codes as seen on other leading competitive models

Advanced Ribbon Control: Additional ribbon guide roller and oversized ribbon wind spindle is synchronized with platen roller to help reduce ribbon wrinkle
---
Benefits
---
The SATO CLNX Series has a head opening of 60°, allowing easier access and faster maintenance. This translates into reduced down time and easy access to media sensor and other components.
Not the one you want?
---
Idezi offers a complete line of products in the barcode industry. However, we decided to limit our products page to a number of popular products. We have learned that clients can be overwhelmed by the various options available. So, if you are looking for a particular item and don't see it on our page, please call 615-377-8849 or email us . We most likely offer it.