Datalogic
Gryphon I GM4100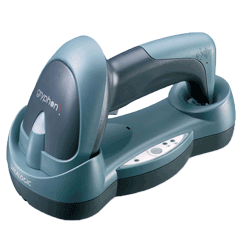 The Datalogic Gryphon I GM4100 is an extremely versatile and durable cordless linear imaging Handheld Scanner. It is the ultimate solution for applications in retail and light industrial environments where mobility is necessary for improved productivity. Narrow band radio communications with Datalogic's STAR Cordless System™ is the key to increased productivity and flexibility in the workplace.
Features
---
Capable of Scanning: 1D Linear Imager

Features Fastest Scan Speed: A quick 325 scans/second scan speed

Reading Depth of Field: 0.8" to 31.2"

Datalogics STAR Radio: Radio range (open air) up to 98.4 ft. for 433 MHz and up to 49.2 ft. for 910 MHz

Environmentally Sealed: Environmentally sealed against moisture and dust with an IP52 rating

Withstands Repeated Drops: It can withstand falls up to 6 feet to concrete, bringing durability and lasting value to your team

Hands-Free 2-Position Cradle for Presentation Scanning: Datalogic's new, patented 2-position cradle provides multiple solutions to answer different functional and reduced space requirements

Datalogic's Patented: Featuring Datalogic's exclusive patented 'Green Spot' for good read feedback directly on the code, it helps to improve productivity especially in noisy environments

Warranty: The Datalogic Gryphon GM4100 comes with a 3-year factory warranty
---
Benefits
---
Mobile communications eliminates the restraints caused by cabled devices, providing a safer and more efficient environment for employees.
Not the one you want?
---
Idezi offers a complete line of products in the barcode industry. However, we decided to limit our products page to a number of popular products. We have learned that clients can be overwhelmed by the various options available. So, if you are looking for a particular item and don't see it on our page, please call 615-377-8849 or email us . We most likely offer it.