Datalogic
PowerScan PD7100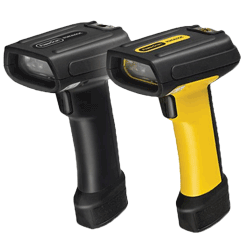 The PowerScan 7100/7000 product series are Datalogic ADC's value line of rugged industrial handheld data collection products. The PowerScan D7100 linear imaging corded reader combines rugged durability and extremely snappy reading performance all at an affordable price.
Features
---
Fast Read: Fastest speed-to-read - 390 scans/second

Datalogic's Patented: 'Green Spot' technology and louder beeps for good read feedback

Advanced Code Stitching: The PowerScan PD7100 features advanced code stitching capabilities, making it easier to read poorly printed and damaged codes the first time.

Withstands Drops: Ruggedized with 2 m / 6.5 foot drop to concrete resistance bringing durability and lasting value

Environmentally Sealed: Environmentally sealed against moisture and dust with an IP65 rating

Warranty: Three year standard warranty ensures low total cost of ownership.
---
Benefits
---
Together high-speed digital hardware and Datalogic ADC's advanced decoding algorithms produce read rates up to 390 scans per second, making the PowerScan 7100 readers the fastest industrial scanners available. This is why the 7100's are especially suitable for "high-speed" applications where thousands of codes have to be read in a very short period of time.
Not the one you want?
---
Idezi offers a complete line of products in the barcode industry. However, we decided to limit our products page to a number of popular products. We have learned that clients can be overwhelmed by the various options available. So, if you are looking for a particular item and don't see it on our page, please call 615-377-8849 or email us . We most likely offer it.