Datalogic
PowerScan PD9500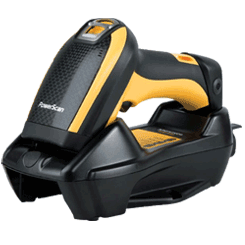 The PowerScan PD9500 cordless 2D handheld scanner area imager is a ruggedized cordless reader suitable for all demanding applications. It is equipped with a new generation of the Datalogic STAR Cordless System, the proprietary radio from Datalogic, which further improves the outstanding features of versatility, ease-of-use and radio range.
Features
---
Aim, Trigger, Decode: An intuitive and effortless scanning experience is the target of the PowerScan™ 9500 series. They combine omnidirectional reading capabilities with outstanding optical characteristics. The result is a scanner that is able to read any kind of bar code regardless of the orientation, from contact to over 1.0 m / 3.3 ft, depending on the bar code resolution.

Soft White: Light illumination

4 Configurable Keys: The PD9500 series offers a model with a display and 4 configurable keys to increase the interaction between the host and the user allowing a two-way exchange of information for more reliable and effective communications.

Lithium-Ion Battery: Replaces in 3 seconds!

High Speed: 433 MHz and 910 MHz radio communications

Developed with the User in Mind: Handle shape, well-balanced weight and an intuitive aiming system allows high first-pass reading rates while reducing unnatural wrist movements for improved ergonomics and user comfort.

Water and Particulate Sealing Rating: IP65

Datalogic's 3GL™: (3 Green Lights) technology and loud beeper for good-read feedback
---
Benefits
---
The PowerScan PD9500 was developed with the user in mind with its easy handle shape, well-balanced weight and an intuitive aiming system. It is suitable for all demanding applications.
Not the one you want?
---
Idezi offers a complete line of products in the barcode industry. However, we decided to limit our products page to a number of popular products. We have learned that clients can be overwhelmed by the various options available. So, if you are looking for a particular item and don't see it on our page, please call 615-377-8849 or email us . We most likely offer it.