Datalogic
Quickscan I QD2100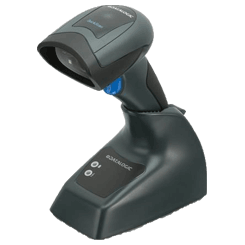 The QuickScan QD2100 handheld scanners linear imaging reader is an entry level product that is perfect for use in retail and office environments. This reader is small, lightweight, and its ergonomic design makes it comfortable for use with your daily operations.
Features
---
Datalogic Patented: The QD2100 reader features Datalogic's exclusive patented 'Green Spot' for good read feedback directly on the code. When in Stand Mode, the Green Spot remains on to show the operator where to position the code for quick and intuitive reading

Reading Capability: The QD2100 is small, lightweight and its ergonomic design is comfortable to use during daily operations. It offers snappy reading performance especially on hard to read bar codes and is capable of reading a wide range of symbologies including the majority of 1D codes plus GS1 DataBar™ linear codes

Two Multi-Interface Options: Support the most popular interface combinations

Water and Particulate: Environmentally sealed against moisture and dust with an IP42 rating

Drop Resistance: 1.5 m / 5.0 ft reducing service costs and increasing device uptime

Warranty: 5-year Factory Warranty. The QD2100 was specifically designed so that a replacement window pack can be ordered to replace damaged or scratched windows without having to send the scanner away for repairs. This helps to reduce the total cost of ownership during the life of the scanner and helps to ensure that it is always available for use.
---
Benefits
---
This scanner is perfect for retail and office environments plus activities associated with couriers and postal services because of its lightweight and ergonomic design.
Not the one you want?
---
Idezi offers a complete line of products in the barcode industry. However, we decided to limit our products page to a number of popular products. We have learned that clients can be overwhelmed by the various options available. So, if you are looking for a particular item and don't see it on our page, please call 615-377-8849 or email us . We most likely offer it.