Honeywell
3820i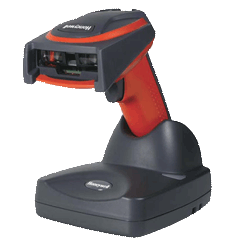 The 3820i Industrial Cordless Linear Image Scanner is designed to provide high-performance linear barcode scanning for applications that demand maximum reliability in the harshest working environments, combined with the freedom and convenience of Bluetooth cordless connectivity.
Features
---
Built for Industrial Applications: Rugged housing is specified to withstand 50 drops from 6.5 feet (2m) and certified to IP54 standards, while still being ergonomic and easy-to-use.

Wireless Connectivity: Bluetooth v2.0 radio enables movement up to 33 feet (10m) from the base, and reduces interference with other wireless systems. Up to 7 imagers can communicate to 1 base, reducing the total cost of ownership.

High Performance Linear Barcode Scanning: Adaptus Imaging Technology 5.0 provides reading of all linear barcodes - even those that are damaged or poorly printed.

Long-Lasting Lithium-Ion Battery with Tool-Free Access: Powers up to 50,000 scans per full charge ensuring maximum uptime. Thumbwheel end-cap allows easy access to the battery, permitting employees to quickly swap batteries and keep working.

Simplified Device Configuration: Visual Xpress™ software enables device programming and configuration on a host system through an easy-to-use Windows®-based graphical user interface.

User Feedback Designed for Extreme Environments: Adjustable, extra loud "good read" beeper and dual LED indicators ensure reliable & intuitive feedback even in noisy environments.
---
Benefits
---
Rugged and reliable, the 3820i wireless scanner reads all linear barcodes even if they are damaged or poorly printed, giving the user mobility and enhanced user experience.
Not the one you want?
---
Idezi offers a complete line of products in the barcode industry. However, we decided to limit our products page to a number of popular products. We have learned that clients can be overwhelmed by the various options available. So, if you are looking for a particular item and don't see it on our page, please call 615-377-8849 or email us . We most likely offer it.