Honeywell
Eclipse 5145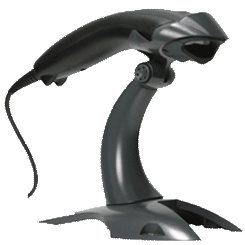 Honeywell's Eclipse 5145 is a low cost laser-based alternative to CCD scanners. Its compact form factor and high end feature set simplify its use in a variety of applications at the press of a button. Eclipse is a single-line, handheld laser scanner.
Features
---
CodeGate®: Zero in on desired code and complete data transmission with a push of a single button -- ideal for menu scanning applications

CodeSense®: Automatically switches from "pulse mode" to continuous beaming when a bar code is detected

Powerlink Cables: Uses the same user-replaceable cables and power supplies as Voyager®, Orbit® and Cubit®

Flash ROM: Update firmware from any PC via MetroSet2 software provided by Honeywell

OPOS and JPOS System Compatible: Easily adaptable to any end-user system environment

Warranty: Comes standard with a 3 year standard coverage (Additional Comprehensive Warranty available)
---
Benefits
---
Equipped with Honeywell's patented CodeGate technology, the Eclipse handheld scanner can be used in a wide variety of applications. CodeGate technology allows the user to easily target the desired bar code and complete data transmission with the press of a single button. This makes Eclipse a perfect selection for menu scanning, point-of-sale, document processing and inventory control.
Not the one you want?
---
Idezi offers a complete line of products in the barcode industry. However, we decided to limit our products page to a number of popular products. We have learned that clients can be overwhelmed by the various options available. So, if you are looking for a particular item and don't see it on our page, please call 615-377-8849 or email us . We most likely offer it.