Honeywell
Fusion 3780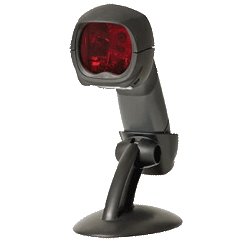 Honeywell's Fusion® 3780 laser barcode scanner combines omnidirectional and single-line laser scanning into a lightweight and ergonomic hand-held form factor. The Fusion 3780 scanner's automatic stand detection allows users to seamlessly switch from hand-held to presentation scanning.
Features
---
Primary Omnidirectional Scan Pattern: Aggressive scanning of bar codes in any orientation, increasing throughput

Secondary Single-Line Scan Pattern: With a push of a button, switch to a targeted single-line for menu scanning

Automatic In-Stand Detection: Hands-free operation for presentation scanning, reducing operator fatigue

Sleep Mode With IR Wake Up: Multiple sleep modes reduce power consumption, extending life and lowering cost of operation

Optional Integration of RF EAS Antenna: Increases efficiency by simultaneously deactivating RF EAS tags and decoding bar codes
---
Benefits
---
The 20-line scan pattern provides superior scanning over existing single-line scanners, making the Fusion laser scanner ideal for medium-volume retailers including specialty stores, pharmacies, liquor stores and convenience stores. Standard features such as Flash ROM, MetroSelect® and MetroSet®2 programming, and user replaceable cables protect your investment by enabling Fusion to grow with you and your application requirements.
Not the one you want?
---
Idezi offers a complete line of products in the barcode industry. However, we decided to limit our products page to a number of popular products. We have learned that clients can be overwhelmed by the various options available. So, if you are looking for a particular item and don't see it on our page, please call 615-377-8849 or email us . We most likely offer it.