Honeywell
Granit 1980i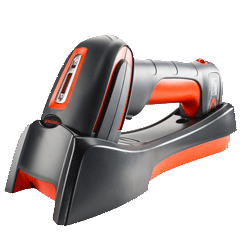 The Granit™ 1980i industrial scanner features full-range area-imaging technology capable of reading both 1D and 2D barcodes from six inches (15 cm) to over 50 feet (15 meters). From poor quality 7.5 mil paper codes scanned at arm's length to 100 mil retro-reflective codes hanging from warehouse rafters, the 1980i is built to read virtually all barcodes across its unmatched range, supporting maximum operator productivity in the harshest environments.
Features
---
Full-Range Area-Imaging Performance: Scan virtually all 1D and 2D barcodes from 6 in. (15cm) to over 50 ft. (15m) away

Built Granit Tough: Tested to withstand the toughest environments, Granit is rated IP65 and can withstand 5,000 tumbles from 3.2 ft. (1m) and 50 drops to concrete from 6.5 ft. (2m)

Easy to Use: A laser-spot aimer, omni-directional scanning, and features such as center-decode take guesswork out of scanning at extended ranges

Industrial Grade Cable Option: Tested to withstand 300,000 90-degree bends at temperatures as low as -22°F (-30°C). Continues to communicate when up to 60 pounds of force is applied

Single Scanning Solution: Can replace and consolidate multiple purpose-built scanners in typical distribution center and warehouse environments
---
Benefits
---
As a member of the Granit family of scanners, the 1980i is built to withstand the varied demands of harsh working environments. Utilizing the Granit housing that has long set the standard for scanner reliability, the 1980i is rated IP65 and is built to survive 5,000 tumbles from 3.2 feet (1m) and 50 drops to concrete from 6.5 feet (2m)—even in temperatures as low as -22°F (-30°C). As a result, operations that deploy Granit scanners can expect to experience minimal device downtime and a lower overall cost of ownership
Not the one you want?
---
Idezi offers a complete line of products in the barcode industry. However, we decided to limit our products page to a number of popular products. We have learned that clients can be overwhelmed by the various options available. So, if you are looking for a particular item and don't see it on our page, please call 615-377-8849 or email us . We most likely offer it.