Honeywell
Voyager 1450g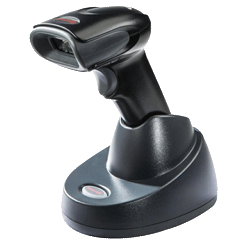 Across many industries, 2D bar coding is becoming the new standard. Not only is it possible to hold much more data in a 2D code, but government regulations and supplier mandates are requiring their adoption. Enterprises are also looking to leverage emerging trends that require area-imaging technology—today or in the near future—without the need to purchase additional scanning hardware, or settle for reduced scanning performance.
Features
---
Reliable Data Collection: Offers omnidirectional reading of virtually all linear bar codes and the most widely used 2D bar codes, including poor quality and mobile bar codes (2D decoding available in select models).

Go Beyond 1D Codes: Unlike traditional laser scanners, 1D version of Voyager 1450g can read bar codes Omni-directionally, making it ideal for presentation scanning

Mobile Phone Reading: Scans coupons, mobile tickets and digital wallets from the screens of mobile devices

Future Proof: Delivers affordable scanning of 2D bar codes, allowing enterprises to meet their current and future bar code scanning needs with a single device.

Flexible Licensing Solution: Meets diverse scanning requirements by offering models with basic functionality, with software licenses enabling additional functionality as needs evolve.

Remote MasterMind™ Ready: Reduces total cost of ownership by providing a turnkey remote device management solution that easily manages and tracks usage of installed devices
---
Benefits
---
The Voyager 1450g offers an exceptional value for enterprises that require the versatility of area-imaging technology today or may need it in the future. Produced by a company with decades of experience in engineering quality data capture solutions, Honeywell's Voyager 1450g area-imaging scanner is a smart—and scalable—investment.
Not the one you want?
---
Idezi offers a complete line of products in the barcode industry. However, we decided to limit our products page to a number of popular products. We have learned that clients can be overwhelmed by the various options available. So, if you are looking for a particular item and don't see it on our page, please call 615-377-8849 or email us . We most likely offer it.