Unitech
MS840P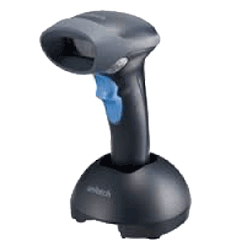 Unitech released its new MS840P wireless handheld barcode scanner which is being recognized as the industries best value. It offers the freedom and flexibility of wireless barcode scanners at a fraction of the price of Bluetooth. With a wireless range robust enough to accommodate a wide variety of operations, there is no need to sacrifice performance for price.
Features
---
Data Stored: The MS840P stores data in a buffer mode while it is out of range of the wireless signal, uploading the data when it gets back in range

Radio Frequency Scanner: 2.4 GHz technology using USB receiver to communicate with your computer

Supports: Reads all 1D barcodes; including GS1 Data barcode

Ergonomic design: for maximum user comfort

Wireless Range: Has a long range off 33 Feet

Louder Beeper: for noisy environment operation

Withstands Drops: The MS840P scanner is durable enough to withstand multiple 6 foot drops to concrete.

Environmental Sealing: The Unitech MS840P has been tested and certified with an IP42 rating, which means it is safeguarded from water and dust to a certain threshold.

Battery: Has a 10 hour battery life
---
Benefits
---
The MS840 makes reading barcodes in busy working environments easy, and allows users to rest assured that they have captured each and every barcode.
Not the one you want?
---
Idezi offers a complete line of products in the barcode industry. However, we decided to limit our products page to a number of popular products. We have learned that clients can be overwhelmed by the various options available. So, if you are looking for a particular item and don't see it on our page, please call 615-377-8849 or email us . We most likely offer it.