CipherLab
8000 Series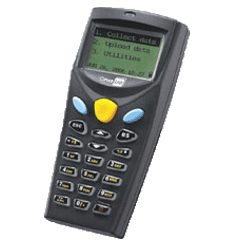 The best things come in small packages-that's why you can expect incredible productivity and great value from the CipherLab 8000 Series. These pocket-sized mobile computers put fast, accurate barcode scanning and wireless communications options in your hands (and your pocket) to accelerate product ordering, item picking, route accounting, and other AIDC activities.
Features
---
Operating System: Supports a wide variety of C and BASIC solutions from batch to wireless connectivity

Operating Power: Running on a 16-bit CMOS low-power consumption CPU, 8000 Series mobile computers come with 2MB program memory and 2MB data memory

Master Every Detail: Versatile 8000 Series mobile computers improve business-critical operations by combining scanning and data entry in one compact lightweight handheld with a user-friendly interface and easy-to-read backlit LCD screen

Always Ready for Overtime: Highly efficient circuit design enables up to 100 continuous hours on AAA size batteries

Impact Resistance: 1.2 m / 4 ft. drops onto concrete, 5 drops per 6 sides

Scan Rate: Linear imager/Laser: 100 scans per second
---
Benefits
---
Durable design and low cost mean you reap a lot of value over a long time-at a minimal investment. For such a small package, there's nothing like the 8000 Series mobile computer to cost-effectively make your work easy and efficient.
Not the one you want?
---
Idezi offers a complete line of products in the barcode industry. However, we decided to limit our products page to a number of popular products. We have learned that clients can be overwhelmed by the various options available. So, if you are looking for a particular item and don't see it on our page, please call 615-377-8849 or email us . We most likely offer it.