CipherLab
8600 Series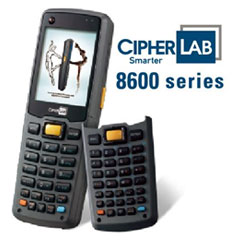 The 8600 series industrial mobile computer is designed to meet the demands of the warehousing, distribution center and manufacturing industry.
Features
---
Operating System: This new handheld terminal operates with CipherLab Operating System (cOS), which reduces redundant programs and applications for users

Operating Power: The handheld terminal is equipped with flexible WLAN 802.11 b/g/n and Bluetooth® 4.0, it can deliver real time data transmission more efficiently

RFID: Versatile reader options including optional RFID reader allows for wider data collection

Withstands Drops: Ruggedized with 1.8 m / 6 foot drop to concrete resistance bringing durability and lasting value

Environmentally Sealed: Environmentally sealed against moisture and dust with an IP65 rating

Swappable Keypads: The 8600 series mobile computer also comes with swappable keypads and modular charging and communication system which provide various combinations to meet your requirements
---
Benefits
---
The 8600 series mobile computer is a pioneer product of new generation. It is a combination of functionality, ruggedness, and mobility rolled all into one efficient device. The new CipherLab 8600 has a color display that defines background and text with various colors to improve readability and support rich data management tasks.
Not the one you want?
---
Idezi offers a complete line of products in the barcode industry. However, we decided to limit our products page to a number of popular products. We have learned that clients can be overwhelmed by the various options available. So, if you are looking for a particular item and don't see it on our page, please call 615-377-8849 or email us . We most likely offer it.