CipherLab
CP60 Series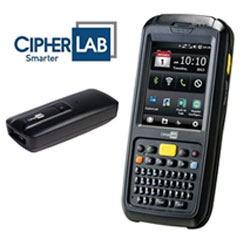 The CipherLab CP60 series mobile computer is designed specifically for applications in transportation and logistics, warehousing, manufacturing and field service.
Features
---
Flexible OS Options: CP60 is truly one of a kind as it comes fully equipped with an option of operating systems in Windows® Embedded Handheld 6.5.3 and Windows® CE 6.0 R3 which can fulfill different demands of business and user preferences

Dependable Wireless Communications: The CP60 provides the most flexible wireless communication options which keep your field connections strong. 3.8G HSPA+, 802.11 a/b/g/n, and Bluetooth® V2.1 with EDR ensure stronger connection. Moreover, CP60 has provided optional 4G LTE possibilities

Versatile Data Capture: The CP60's versatile data capture comes in forms of laser reader, long range laser reader, 2D imager, and HF RFID reader

High Capacity Memory: The CP60 features a large 4 GB flash memory capacity and 512 MB DRAM. It has the ability to store massive amounts of data and programs with 4 GBflash, and the programs can run smoothly with 512 MB DRAM

Environmentally Sealed: Environmentally sealed against moisture and dust with an IP65/IP67 rating

Withstand Drops: Able to withstand drops 2.4m drops to concrete
---
Benefits
---
The rugged CipherLab CP60 is an industrial mobile computer designed to fully assist your staff in the field with the most cutting edge specifications. Crafted for the harsh environments of transportation and logistics, warehousing, manufacturing and field service, this tough mobile computer will allow your workers to maximize productivity with the most up-to-date technologies.
Not the one you want?
---
Idezi offers a complete line of products in the barcode industry. However, we decided to limit our products page to a number of popular products. We have learned that clients can be overwhelmed by the various options available. So, if you are looking for a particular item and don't see it on our page, please call 615-377-8849 or email us . We most likely offer it.