Datalogic
Lynx PDA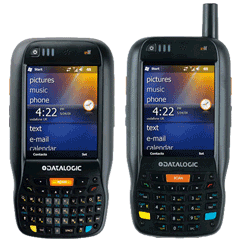 The Lynx™ PDA combines the latest technology in a pocketable and robust package. This state-of-the-art PDA features an 806 MHz processor with 256 MB RAM and 512 MB Flash, all delivered in the industry's most appreciated ergonomic form factor.
Features
---
Operating System: Microsoft Windows Embedded Handheld 6.5

Operating Power: Bluetooth® wireless technology Class 2 with EDR for simultaneous connections with lower power consumption

Capable of Scanning: The Lynx PDA comes equipped with either a 1D laser scanner or a 2D bar code imager. For emerging applications requiring evidence of task execution or damaged documentation, an autofocus camera is included with a built-in flash providing a solution to collect and document with photos.

Withstands Drops: Ruggedized with 1.2 m / 4 foot drop to concrete resistance bringing durability and lasting value

Environmentally Sealed: Environmentally sealed against moisture and dust with an IP54 rating

Mobile Radio: 3G/4G (HSPA+) mobile radio for voice and data communication
---
Benefits
---
The Lynx PDA offers excellent aesthetics complimented by industrial robustness that survives indoor and outdoor usage. A high drop resistance rating ensures the ruggedness of the Lynx PDA.
Not the one you want?
---
Idezi offers a complete line of products in the barcode industry. However, we decided to limit our products page to a number of popular products. We have learned that clients can be overwhelmed by the various options available. So, if you are looking for a particular item and don't see it on our page, please call 615-377-8849 or email us . We most likely offer it.