Datalogic
Skorpio X3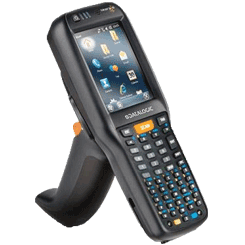 This rugged mobile computer is particularly suitable for mobile commerce solutions in the retail environment both on store shelves and in stock rooms. With the best ergonomics on the market, the Datalogic Skorpio X3 mobile computer reduces operator fatigue with no compromise in terms of reliability and robustness, resisting harsh environments, multiple drops, strong shocks and repetitive tumbles.
Features
---
Operating System: Microsoft Windows Embedded Handheld 6.5 or Microsoft Windows CE6.0 Operating System

Operating Power: Bluetooth® wireless Communications 2.0 EDR for simultaneous connections with lower power consumption

Capable of Scanning: Laser scanner or Wide aspect 2D imager both with Datalogic's patented Green Spot technology for good-read feedback

Withstands Drops: Ruggedized with 1.5 m / 5 foot drop to concrete resistance bringing durability and lasting value

Environmentally Sealed: Environmentally sealed against moisture and dust with an IP64 rating

Highly Visible Screen: The Skorpio X3 features a highly visible color graphic display screen
---
Benefits
---
Whether in department or specialty stores, hyper or supermarkets, convenience stores, grocery or Do-it-Yourself stores, Datalogic's Skorpio X3 mobile computer fits most any retail in-store requirement for mobile data collection or validation. With the optional pistol grip, it is equipped for demanding back-end receiving and warehousing environments as well.
Not the one you want?
---
Idezi offers a complete line of products in the barcode industry. However, we decided to limit our products page to a number of popular products. We have learned that clients can be overwhelmed by the various options available. So, if you are looking for a particular item and don't see it on our page, please call 615-377-8849 or email us . We most likely offer it.