Honeywell
Dolphin 6110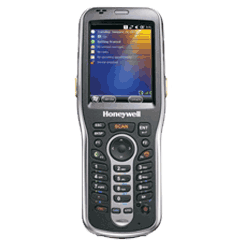 Honeywell's Dolphin 6110 is a stylish and reliable mobile computer that provides advanced data collection and real-time wireless communication for in-premise applications including price lookup/audits, inventory management, customer assistance, and merchandising.
Features
---
Sleek, User Friendly Design: Ultra-lightweight device provides instinctive data entry and comfortable single-handed use in a stylish form factor

Real-Time Wireless Communication: Advanced integrated 802.11 a/b/g/n technology delivers real-time network access to critical information and supports advanced wireless security standards

Class-leading 800MHz Microprocessor: Supports the Microsoft Windows Embedded Handheld 6.5 platform

Environmentally Sealed: The Dolphin 6110 has and IP54 rating which provides superior protection against water and dust

Withstands Drops: The high-performing Dolphin 6110 can sustain up to 500 tumbles from 1 meter (3',3"), ensures reliability for years to come

Versatile, High Performance Data Collection: Adaptus 6.0 reads linear and 2D bar codes, captures digital images, and enables electronic signature capture-enabling workers to do more with a single device
---
Benefits
---
Purpose built for in-premise applications, Dolphin 6110 provides mobile workers with the tools needed to streamline tasks, improve productivity, and maximize investment protection.
Not the one you want?
---
Idezi offers a complete line of products in the barcode industry. However, we decided to limit our products page to a number of popular products. We have learned that clients can be overwhelmed by the various options available. So, if you are looking for a particular item and don't see it on our page, please call 615-377-8849 or email us . We most likely offer it.