Honeywell
Dolphin 75e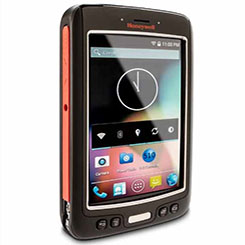 Sleek, intuitive and highly versatile, the Dolphin 75e mobile computer is ideal for enterprises that need a single device for diverse workflows. It lets you use a variety of input and output modes to deliver significant operational gains and flexibility. And it's easy to adopt and offers you a lower TCO than traditional single-purpose devices. (Ask about the Add-On wearable solution kit that we have available)
Features
---
The Dolphin 75e mobile computer is a versatile multimodal device. It delivers significant operational gains and flexibility for your enterprise.
Despite its good looks, the 75e device is tough. Its durable IP67-rated design means the 75e device will keep working even if it's dropped or completely immersed in water. That makes it an ideal choice for the retail backroom, busy shopping areas, or in hectic line-busting environments.
The Dolphin 75e mobile computer is different. It allows you to use complex, data-intensive applications with multiple input modes, including:
Speech

Stylus

Touch

Keypad Gestures
As a result, employees can get more work done with fewer errors. And they'll appreciate the 75e device's vivid, 10.9 cm (4.3 in) Corning® Gorilla® Glass multi-touch screen that's viewable even in sunlight.
The 75e mobile computer also leapfrogs traditional, single-purpose devices by letting employees capture 1D and 2D barcode scans, digital signatures and annotations on images. Your team will be able to generate richer, more robust information in less time to improve inventory management, close more sales and enhance customer service.
---
Benefits
---
Powerful, Versatile Platform

Sleek, Pocketable and Rugged Form Factor

Dedicated 1D/2D Scanning

O/S Versatility

Idezi Repair Service Plans
Not the one you want?
---
Idezi offers a complete line of products in the barcode industry. However, we decided to limit our products page to a number of popular products. We have learned that clients can be overwhelmed by the various options available. So, if you are looking for a particular item and don't see it on our page, please call 615-377-8849 or email us . We most likely offer it.