Honeywell
Dolphin 99EX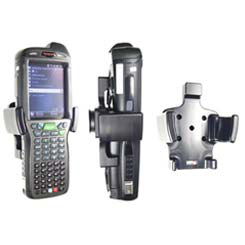 Purpose built for transportation and logistics applications, Honeywell's Dolphin 99EX mobile computer provides user-friendly ergonomics, cutting-edge wireless technology, multi-functional data capture and extreme durability for front-line workers operating in a variety of locations ranging from loading docks to residential doorsteps.
Features
---
Adaptus Imaging Technology 6.0: Enables multi-functional data capture by providing fast scanning of linear and 2D bar codes with excellent motion tolerance, as well as seamless image capture through use of an integrated color camera

Fast and reliable Wireless Connectivity: Delivers full wireless coverage for applications inside and outside of the four walls, allowing real-time access to critical data

Withstands Drops: Able to withstand multiple 6 feet drops to concrete and over 2,000 1m tumbles, resulting in a lower total cost of ownership for enterprises

Environmentally Sealed: Environmentally sealed against moisture and dust with an IP67 rating

Shift-PLUS Power Management: Enhances productivity by providing full shift battery life, eliminating the need for employees to carry spare batteries or chargers

Optimal combination of Performance and Usability: Improves ease of use and worker efficiency with a large outdoor-viewable screen, multiple keypad options, a super-fast CPU and smart sensors
---
Benefits
---
Designed with input from leading companies in the transportation and logistics sector, Honeywell's Dolphin 99EX mobile computer provides a rugged solution that increases productivity by connecting enterprises, front-line workers and customers using real-time wireless communication.
Not the one you want?
---
Idezi offers a complete line of products in the barcode industry. However, we decided to limit our products page to a number of popular products. We have learned that clients can be overwhelmed by the various options available. So, if you are looking for a particular item and don't see it on our page, please call 615-377-8849 or email us . We most likely offer it.