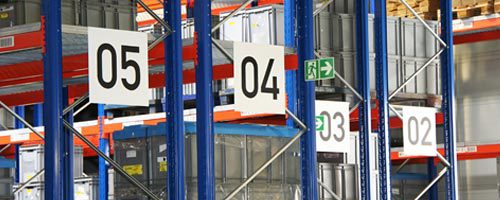 Rack Labels and Signs
For years, Idezi has provided rack labels and signage used for large manufacturing and distribution. When new racks are purchased or a new warehouse is built, Idezi helps with the identification, positioning and location processes on the floor. Below are some of the products we offer:
Polyester Rack Labels

Retro Reflective (Long Range Scanning) Labels

Magnet Rack Labels

Removable Vinyl Tapes

Custom Signs for Long Range Scanning

Hanging Signs

"V" & "Z" Shaped Signs for better scanning

Flat Signs and Aisle Markers

Vertical Placards – Multicolored and with arrows
Idezi must understand the warehouse layout and customer needs regarding the custom labels to ensure a great product. We always request a spreadsheet that provides the numbering sequence. There are many options to consider: barcode style and size, colors for rack levels, the distance from the label or sign to scan, etc. Once we understand the label size and unique needs, we provide a detailed proof so we are all on the same page. In some cases, Idezi's trained staff has gone on site and applied labels as needed.
Rack Labels
---
We offer a wide variety of different label materials for rack labels below:
Vinyl labels with removable adhesive

White polyester labels with permanent adhesive

Color border white polyester labels for rack level identification

Retro reflective labels for extended long range scanning

Magnetic tags for semi-permanent location positions on the rack
Custom Signage
---
Idezi offers various sizes of custom warehouse signage to identify aisle locations and use with special barcode labels for 30ft long scans. An onsite visit is needed to measure and test the signs used at the warehouse. In some cases, Idezi can install the signage on site. Because the custom signage and rack labels are both "identifying" a warehouse, often Idezi handles both projects
Installations
---
Idezi can provide installation and application of the rack labels and custom signage, and are happy to quote this labor process for your specific and unique needs.
Call Idezi today @ 615-377-8849 to learn what sets Idezi apart from the rest
Servicing Nashville - Brentwood, Tennessee and beyond!
Find Your Application
---
Let Idezi use your warehouse inventory data to create barcode prints with a wide range of materials, including rack labels, floor labels, signs, magnets, and more. We work with warehouses everywhere to provide complete warehouse print solutions for any work environment.
When you call our offices at 615-377-8849, you will be able to speak to a trained specialist who can help create a custom report for your project.
Developing simple solutions to complex needs; it's what sets us apart and is the DNA of Idezi. "ID Made Easy"