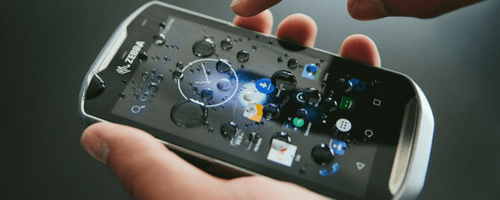 Mobile Computers
At Idezi, our mobile computing solutions enable you to advance your data capture and management needs. We offer mobile computer apps and software for inventory management, asset tracking, field service, and many other applications. Depending on your environment, we have a handheld mobile computer, tablet, rugged notebook computer, laptop, mobile printer or mobile cart to help enhance the productivity of your employees and improve your customer response times.
It can be easy to confuse barcode scanners with mobile computers The difference is that mobile computers not only have scan engines in them, but they also have the following:
Batch Memory

Operating system ( DOS, Windows CE, Windows Mobile, Android )

Numeric or Alpha-numeric keypad

A screen to see the transaction
We offer both the Batch Mobile Computers and the Internet Mobile Computers. The Batch Mobile Computers hold the data until the research tech uploads the information through a cable or a base station. The Internet Mobile Computers works with a web based application, so that the data is automatically sent via a Wi-Fi Connection.
We also equip our mobile computers with Windows Embedded, Windows Mobile, Windows CE, or Android operating systems to ensure seamless software integration with your back-end systems. Our mobile computers come in a variety of form factors such as pistol-grip, wearable and even some as small as your smartphone, while still maintaining a high level of ruggedness and barcode scanning capability.
Call Idezi today @ 615-377-8849 to learn more
Servicing Nashville - Brentwood, Tennessee and beyond!
Unique Approach
---
Our handheld computers, or mobile computers, are the perfect multi-use tool for your advanced data capture and mobility needs. With options for batch and real-time wireless (Wi-Fi and Cellular) data capture, we have handheld computers for every application and environment.
Increase efficiency, productivity and customer service levels, inside the four walls or out in the field, with our handheld mobile computers.
Call Idezi today @ 615-377-8849 to learn what sets us apart from the rest.
Developing simple solutions to complex needs; it's what sets us apart and is the DNA of Idezi.